Hewn Timbers
Various Lengths
Red Barn Board
2000+ feet; 3/4 to 7/8″ thickness; 6-12″ in widths; most are 8′ in length or longer. $1.50 per Board Foot.
500+ Feet, 1/2 Inch Chestnut Subfloor/Dustboards
Random Widths up to 14″ Wide, Various Lengths.  $2.00 Sq. Ft.
Various Hewn 7×7 Oak-Chestnut Beams
Call for Pricing & Lengths
2 x 7 Oak Joists
About 800 Linear Ft., Joists, up to 14 Ft. in Length. $3.00 Linear Foot.
Slate Roof Tiles
Available in 12×18, approx. 800 sq. ft. of coverage.
11,200 Board Feet of Grade 1 Heart Pine in Beam
5×9 to 11×13, about 50% paint.  $1 per Board Foot or Best Offer.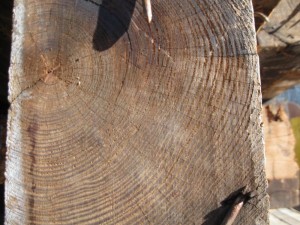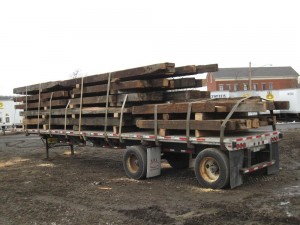 1000 Feet of Pine Barn Board Exterior Siding.
Painted Brown, in widths of 10 to 18″, Cross Sawn in lengths up to 12 Feet, 7/8″ Thickness. $4/Board Foot.
Beams, Boards

Resawn Chestnut – 1000+ Feet of 1″ Board
3-1/2″ widths and up, Random Lengths. $7 per Sq. Ft.
Resawn Antique Oak
3-1/2″ widths, Random Lengths. $8 per Sq. Ft
Resawn Hard Pine
3-1/2″ widths, Random Lengths – Long Lengths Available! $7 per Sq. Ft.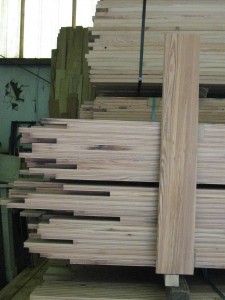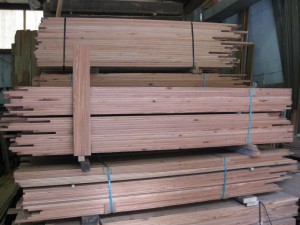 Availability varies, inquire for details
From time to time there are materials available as a result of our reclamation process.  Any listed here represent some that are or may be, in the near future, available for purchase.  Please contact us if you are interested, they move quickly. We choose not to focus primarily on the stock and sale of merchandise, and so the materials do not always remain available for any length of time.